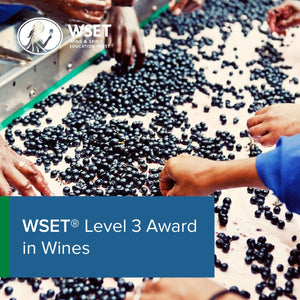 WSET Level 3 Award in Wines (EN)
WSET® Level 3 Award in Wines (English) Four (4) Day Classroom Course
The Level 3 learning includes Four (4) Day in-person Course AND a webinar for exam preparation.
Successful students will receive a WSET certificate and lapel pin and will be able to use the official logo — WSET® Certified Advanced — on your business cards, websites, and other professional material.
The Level of Knowledge Needed to Take This Course: WSET Level 2 Award in Wines & Spirits or  WSET Level 2 Award in Wines or have equivalent level of knowledge.
This class is especially recommended for:
Professionals working in the wine industry and wine enthusiasts.
Course Details:
Day 1
Session 1: Course Induction and Tasting Technique
Session 2: The Natural Factors and Human Influences in the Vineyard
Session 3 The Human Factors in the Winery that Influence Style, Quality and Price
Day 2
Session 4: White Wines of Germany, Alsace, Austria and the Tokaj region of Hungary
Session 5: White Wines of Burgundy, the Loire Valley and Bordeaux
Session 6: Red and Rose Wine of Bordeaux, South West France and the Loire Valley
Session 7: Red Wines of Burgundy and the Red and White Wines of the Northern Rhone Valley
Day 3
Session 8: White and rose wines of the Southern Rhone Valley, Southern France; Red wines of Spain part 1 and white wines of Spain and Portugal
Session 9: Red Wines of Northern Spain and Red and White Wines of Northern Italy
Session 10: Red and White Wines of Central and Southern Italy, the Red Wines of Portugal, and the Red and White Wines of Greece
Session 11: Premium Red Wine Regions of the New World
Day 4
Session 12: Premium White Wine Regions of New World
Session 13: Regional Specialties of the New World
Session 14: Sparkling Wines
Session 15: Fortified Wines